POTUS signs an accord with Egypt regarding support for
freedom of expression
, then the
un
¹
approves of it all. And I'm waving my red flag, once again.
GENEVA — The U.N. Human Rights Council approved a U.S.- backed resolution Friday deploring attacks on religions while insisting that freedom of expression remains a basic right.

The inaugural resolution sponsored by the U.S. since it joined the council in June broke a long-running deadlock between Western and Islamic countries in the wake of the publication of cartoons depicting the Muslim Prophet Muhammad. read more here....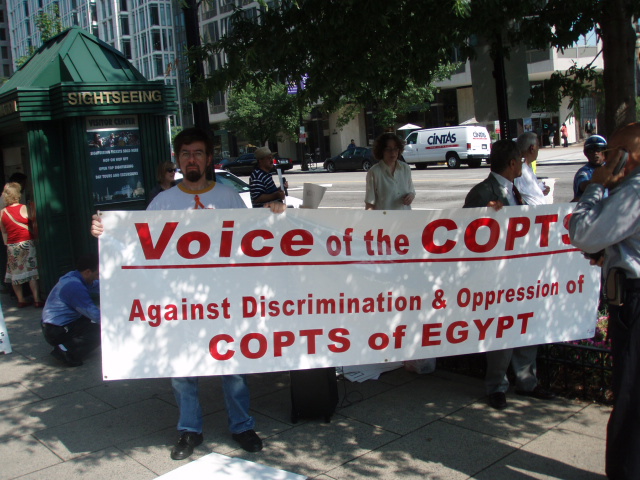 Oh, really?
The demonstrators in this picture are protesting the ongoing discrimination of those who practice the Coptic denomination of Christianity in Egypt.

(AINA) -- The systematic abduction and forced Islamization of Coptic minor girls in Egypt is a frequent, dangerous and a rapidly escalating phenomenon, The problem was brought to light by the Coptic Pope Shenouda III as far back as December 17th, 1976, when he protested during a conference held in Alexandria that "there is pressure being practiced to convert Coptic girls to embrace Islam and marry them under terror to Muslim husbands" and demanded that the abducted girls be brought back to their families.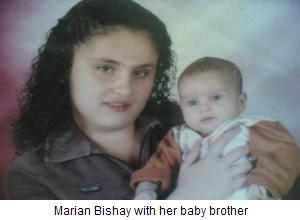 (AINA) -- Mrs. Samira Markos, who lives in Alexandria, sent an appeal to Egypt4Christ advocacy,
pleading with them to rescue her daughter from forced Islamization
. The mother said that her daughter Amira Morgan (born 9/9/1992) was abducted on 7-18-2009 on her way to work in the plastics factory near their home.
Egypt4Christ sent one of its members in Alexandria to verify the mother's plea and met with one of the family relatives who corroborated the story.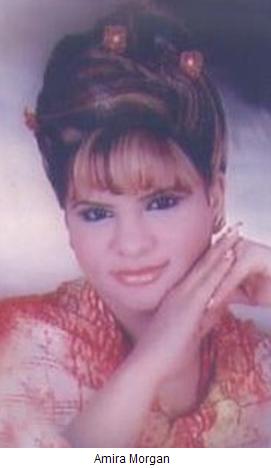 (AINA) -- Two incidents of abduction of Coptic girls
to
force them to convert to Islam
took place within one week in Upper Egypt. In both cases the Egyptian security predictably played a key role in the outcome of the cases.
Rania Asaad was returned to her family, while Irene Labib is still missing, in spite of pleas from human rights organizations to the security authorities to end this Coptic family's misfortune.

In view of the security authorities' complete neglect in the handling of Irene's case, and false government media reports that Irene was returned to her family, a spokesman for the Coptic Church's Sohag Diocese issued a statement on 7/16/09 calling for the immediate return of the abducted girl.
Irene Hanna Labib, 20-years old, disappeared on 7/1/2009 from Sahel Tahta, Sohag Governorate, 500 km south of Cairo.

The RESOLUTION in pdf
from realcourage.org:
"Increasingly, religious minorities have been oppressed by nations supporting a form of Islamic supremacism that
denies freedom of religion
and that oppresses religious minorities through various laws, including laws that punish individuals for
blasphemy
and
apostasy.
The
March 2009 Resolution A/HRC/10/L.2/Rev.1
was sponsored by the
Organization of Islamic Conference (OIC)
which
created
its own version of a human rights declaration based on Islamic Sharia law, the
Cairo Declaration of Human Rights
, in response to its rejection of the
Universal Declaration of Human Rights (UDHR).
Notably, 15
Organization of the Islamic Conference (OIC) nations
in the UNHRC
abstained from voting
on this resolution, as they felt this resolution conflicted with the OIC's support for
Sharia
, which is fundamental to their Islamic supremacist view of "human rights", as described in the
1990 Cairo Declaration on Human Rights in Islam
. Pakistan (representing the OIC) urged for an Amendment to this resolution via
A/HRC/6/L.49
to eliminate verbiage about the right to change one's religion. Saudi Arabia
felt
that the resolution "went against Sharia law", and Egypt
felt
that resolution needed to be applied "within the context of the tenets of Islam."
how they voted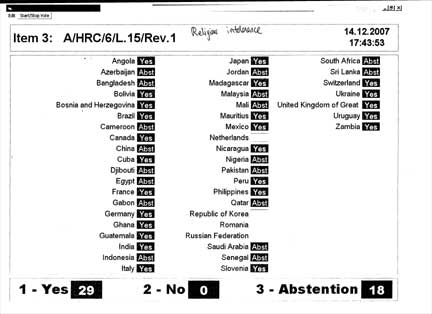 here, here and here.
_______________________________________
¹
The United Nations, pronounced
"uhn"
(rhymes with "
fun
")